INTRODUCTION TO INFRARED THERMOGRAPHY
---
Pre Main Services Ltd. provides the manufacturing industries with a broad range of preventative maintenance services. We deliver quality service in many fields of preventative maintenance. We are now offering Infrared Thermography to a growing list of procedures and tools used in our already comprehensive preventative maintenance program. Infrared Thermography helps your industry to increase productivity, reduce costs and devote more time to an operation that creates revenue for your company. We use advanced infrared thermography to inspect electrical and mechanical systems. Having a maintenance program that includes Infrared Thermography can help your company in many ways from decreasing costly down time to increasing the life of your electrical and mechanical equipment with improved safety. Some of the benefits of the program are as follows:

Correcting potential problems before they fail will save time and money


Reduce unscheduled downtime (or increase uptime)


Increase the effectiveness of your maintenance department


Reduce equipment damage


Increase safety in your plant


Reduce insurance costs


Infrared program is a positive image for public relations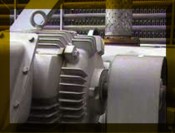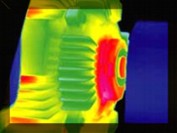 We will have the ability to diagnose problems earlier and with more accuracy. Advance notice of developing problems enables you to perform the necessary adjustments or repairs before costly, sometimes catastrophic failures occur.
WHAT IS THERMOGRAPHY?
---
A thermographic or infrared survey is a well-established non-destructive testing method that provides a real-time analysis of an object's apparent temperature gradient. Thermographic imaging systems observe the infrared radiation emitted from the object's surface to identify thermal anomalies and calculate precise temperatures. Since everything around us is constantly losing heat to the atmosphere in the form of this invisible infrared radiation, the inspection applications are only limited by the imagination.
Infrared Thermography is a detection procedure that converts invisible heat energy into a visible picture. Our highly trained technicians use it to reveal defects or problems in electrical systems or mechanical equipment, or in any process that uses or produces energy. The infrared technology uses electronic cameras and devices to see heat patterns and, in special cases, to measure temperatures. With the thermal information provided by these tools and the training to interpret what they see you can help solve many costly maintenance problems.
---
---